I am going to go ahead and tell you if you have not already figured it out...I am not a a "natural" mommy. I think natural is great and all, but it is just not me. I will also tell you that I am not a great baker. My friend Betty helps me out. You might have heard of her, Betty Crocker...if she is busy (or not on sale) I go with my dude Dunkin. Anyway, I have a very wild imagination. So last week when we were walking through the grocery store I saw candy canes......my FAVORITE!!!! Then I thought, hmmm what can we do that would be cool with these candy canes? I know brownies and candy canes! I am a genius! So I get 2 boxes of canes, a box of Dunkin and some vanilla icing (yum!).
When the kids came in I said "Guess what!, Yall get to beat up candy canes!"Screams and shouts erupted, because I am the coolest mom...well kinda...Matt said "What?!?" and Ansley said "Is this one of your great ideas again?" Ugh! But they did become giddy when I actually gave them the mallet to beat the snot outta the poor candy canes!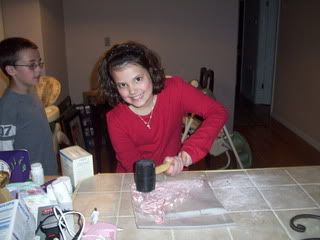 So they beat the heckola out of the candy canes and had a blast (cool mom, I know). Laney-Claire was involved. She was watching from her walker. She is still trying to figure out how she got into all this madness. After the beatings I whipped up the brownies according to Dunkin's directions. Matt then added his bag of candy canes. This is where I messed up. I used 12 candy canes. The most you will need is 6 for a normal size box of brownies. Ansley sprayed the dish with cooking spray, and I did the dumping. Of course she did the licking.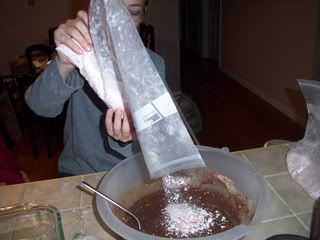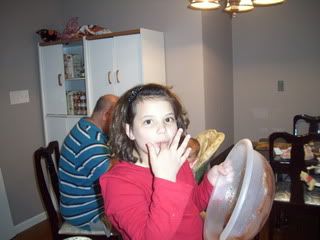 After the brownies were cooked to Dunkin's specifications, or I start smelling them, I put on a layer of vanilla icing. Ansley then took her bag of crushed canes and sprinkled them on top. Again, too many canes and we left some bigger chunks. I think that it would have been better if we had beat the candy canes down into more of a powder.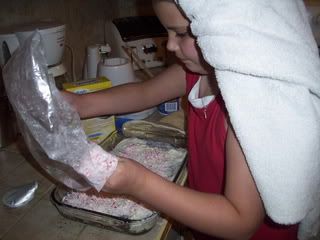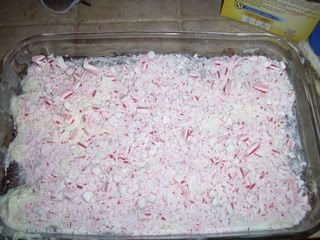 Anyway, they were a little chewy...but over all pretty good. The kids and I had a blast and dorky mom wins again!