As I prepare to write this blog I have to tell those that read my post last week about taking
Matt to the doctor
, I DO NOT MAKE THIS SHIT UP. Sometime I wish I did. My brain is just simply not creative enough to come up with this crap. I know that if I was reading a blog like this at some point I would have to say "WTF!". I also want to apologize for the length of this blog. Please stick with me until the end…it is worth it.
Today was Ansley's turn to take a trip to the doctor (9 year old check up). This time I took Laney with us. I decided to make it a girls day. Her appointment was at 10, but we had to be there at 9:45. So rush, rush to get us all ready and get us there on time. We were in the parking deck at 9:39, so we were cutting it close.
I did not expect for this trip to be anything to write about. I knew that I was in for a time with Matt. That is just how things roll with him. I am not saying that Ansley is not hilarious. She is just more dignified. She acts like a little adult when we are in situations like this.
We arrive at the same stupid sign in desk and answer the same stupid questions as last week. Thankfully, this week I remembered my name and did not just start shouting out numbers at the receptionist. We find a group of chairs close to the door that call you, but positioned so that I may be able to scope out everyone in the waiting room.
I am a people watcher. Along with my people watching, I am a people talk shit abouter. That is, if there is anyone to ogle. My only real wish is that I can have a mini camera that I can take pictures of all of the people that I ogle and talk shit about so that you may get the full effect.
So I hone in on my ogle target. A woman with 2 little boys. The boys looked to be about 7 and 4. The 7 year old was playing DS (What a fucking wonderful invention! Smooches Nintendo!) and the 4 year old was drawing. What made me decide to ogle them was the mom.
I live in the deep south, but it was rather chilly here this morning. 31 to be exact. This woman had on tapered "mom" jeans and flip flops. Often miscues on wardrobe selection will put you on my ogle radar. I have a pic of her feet. I snapped a pic of Laney and was able to get them in without her going all Sean Penn on my ass.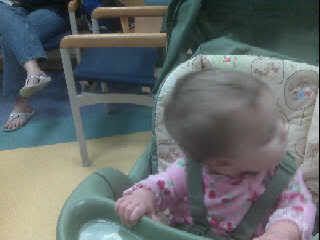 After some mad text messaging to my husband (he is normally my partner in crime when ogling) I started to eavesdrop. (No, I am totally not above that). Mommy Flip Flops was reading a Medical Terminology book with a fierce passion. She was flipping from the back to the front like a mad woman. She was steadily jabbering to herself.
The younger boy came over to show mom his art work and she half ass glanced at it and then said (in a perfect Prozac voice) "Why don't you write your numbers 1 to 100."
Me and the little boy gave her a WTF look. It is not like he was misbehaving. He just wanted her to look at his drawing. Anyway, she proceeded to draw 2 lines on the paper and put him to work while she went back to flipping madly though that damn book.
All of a sudden she yelled out "He needs to drink more water!!".
Umm 'Kay.
That was it. Then she went back to her jibbering and highlighting. I am was beginning to think that maybe she was in the wrong place. I think that she needed to be at the wacko office getting some more of her crazy meds.
Then in walks my next target…
A very cute little girl and her mother. There was a child size table and chairs in the middle of the waiting area. Little girl takes a seat in a little chair. Mom scans her options and sees that the waiting area is pretty full by this point, so she decides to take a seat in a little chair. Well, mom was a little fluffy (totally not talking shit about that because I am fluffy to the 2 power). As she sat down her little girl yell out "You gonna break that chair and fall on your butt!"
OMG!
"Ansley" the nurse yelled. Thank God. I did not want to be there to witness what that mother might have to do to that child.
So we go back and do the weight, height, blood pressure song and dance. Then we go into a room (bigger then last weeks) and the nurse give Ansley a gown. As the nurse leaves Ansley looks at me and says that she is not undressing.
"Well of course you are. You are going to do whatever they tell you."
"Ugh, what all do I have to take off?"
"Everything down to your underwear".
"Well, we have a problem. I don't have any on."
Oh Lord. I so wish I could have a picture of my face to share with the class. I was in total shock.
"WHAT! WHY THE HELL DON'T YOU HAVE ON ANY UNDERWEAR?!"
"I took them in the bathroom and forgot to put them on."
"Holy Hell! What are we going to do now?!"
"I don't know, but I don't have any on."
I swear I have taught her better then this. OMG we are at the doctors office and she is sitting her commando! Naturally I text Dean so he can share on my shock and horror. I asked him what to do, and of course he had no friggin idea.
So I decided that she would just take off her shirt and leave her jean on. I was hoping that at 9 they would not be taking a look at her goodies…Please God don't let them look at her goodies.
Resident comes in and does her thing. Question, question, question…then time for the physical exam. Sure enough, she asked Ansley to unbutton her pants so she could check "down there"…sigh.
It was not as bad as I thought. It was just a sneak peek, so she might not have even noticed that my kid didn't have any drawers on. Then she tells me that her attending will come in and take a look at her. I asked would it be the same exam and she told me that it would not be that in-depth.
Phew!
I sure hope that you did not think that was my big finish for this long ass story.
Attending come in and examines her and does make her unbutton her britches to look at her private parts. Then she told me that since Ansley was pigeon toed she wanted to examine her legs more closely to make sure that there was nothing abnormal.
Ummm 'kay.
"So, I am going to get her to remove her pants so that I can get a better look at her legs. Sometimes pigeon toed can show signs of one leg shorter then the other. I need to make sure everything is symmetrical. Does she have any panties she can put on?"
TOTALLY EMBARRASSED " No, she forgot to put them on this morning (and I only have diapers for my baby in my bag. I did not know it would be necessary for me to carry a pair of drawers for my nine year old!)
Doctor: Well she is just going wild and free today!
Sigh. This is where I surly thought I would die of embarrassment. Now, I am sure that written in my child's chart is a note that say "Mother does not make child wear underwear". That will be there for all eternity. I am so proud.