This is a bonus Monday post. I had the post below set on scheduled publish then I watched Undercover Boss and I just had to write. So read below for my real Monday post.
If you have not watched Undercover Boss this week and you don't want to hear about it stop reading right here…
Stop
I am gonna talk about it.
You better stop now.
You have been warned.
As most of you know I am a shitbox (aka the tv) junkie. I can not get enough of all these stupid reality shows. I love them. I have several that I have new obsessions with. I am surprised that I can even function in life with all of these great shows coming on the shitbox. Thank God for DVR.
I totally got sucked into the after the Super Bowl premiere of Undercover Boss. It was a pretty good little show. Then they sucked me in with previews for this weeks "Hooters" episode. I loath Hooters. Loath them.
I guess they have a place in this world (kinda like my blog! Ha!). But I aint buying what they are selling. Maybe it is because I am not into tits and ass. It's is just not my thing. I feel sorry for the women that work there. I guess I shouldn't. I mean they know why they are there. They applied to be sex objects. Must be something they like to do.
I get up on my soapbox about things, and this is one of them. I would not want either of my daughters to work there. I know that everyone has heard my arguments before about how it is degrading to women. It is sexist. Yada, yada, yada…all the things that most women say.
Well last nights Undercover Boss just summed up everything I thought. There was one particular manager that was shit ton stupid. He was the poster boy for male chauvinist pigs. If you have never heard of this show here is the trailer from last nights show…
The pig would be the ass that made the girls play "reindeer games" to go home (the place was dead and the ladies were making no tips). At this location the undercover
jerk off
boss was training to be a manager. Included in this little segment was douche bag manager lining the girls up for "inspection". He even said something to one girl about not having her nails painted. (?) I am not sure what that has to do with serving food, but whatever. He also called all the girls "Pre Madonnas" and acted like he was enjoying humiliating these ladies. FYI for those that did not watch, he mad them eat a plate of baked beans...piggy style. Whoever won got to go home early.
Undercover Jackass just stood by, watching. He even said to the camera crew "He knows the brand…he is just executing it wrong". OOOOOOOOOk. He did leave and call the franchise owner and told him that he had some "concerns". This is what the conversation should have went like…
UCB: Yeah, this is the person that sold you your franchise. You have a huge dickwad for a manager and I expect his ass to be fired like 5 minutes ago. If you don't I will get all my high priced corporate lawyers to sue your ass for damaging our brand and putting our company at risk for a whole bunch of different lawsuits. Get it? I am going to yank your franchise. So do something…now.
If that would have been said…I would actually eat at Hooters.
But it was not. Undercover Boss Pussy just "talked" to him. He told him that was not an appropriate way to act. Waaaaaaahhhhh WTFE (what the fuck ever). I got the feeling that if a CBS film crew was not following his ass he would have slapped him on the back and bought him a beer.
I sure hope that he did not think that this show was going to be good for business. If anything it just confirmed everything I thought. Even my husband, who dearly loves Hooters wings, said that he will never spend another dollar with them after watching that.
Sigh. What a dumbass.
Onto brighter things…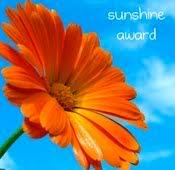 I got 2 awards! Yea me! Well it is the same award from 2 kick ass bloggers.
First from
It's a Mummys Life
And then from
B Sparkly
These are awesome mommy bloggers! Go check them out! Right now! Thank you very much to both of them!
I am suppose to give this out to 12 bloggers. I am not good at this. I can never pick just 12, so I am going to break the rules (again) and give it to everyone. I think that everyone has so much to offer in their own special way, and I enjoy reading all of your blogs every single day!