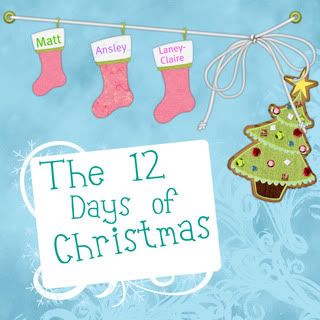 I posted a blog a while back about a supertific idea that my mommy friend Ann Marie shared with me. It is where you pick a family/person to receive gifts from you for 12 days. Normally, this would coincide with the Epiphany, but my children are going to be visiting their dad during that time so we chose to do it the 12 nights leading up until Christmas. The "gifts" correlate to the song "The 12 days of Christmas". This can be done many ways, but we have decided to stay anonymous until the 12th day.
We chose our next door neighbors. They are super sweet and have welcomed us into the neighborhood with open arms. There is Mama, Daddy, 5 y/o son, 3 y/o son, and a brand new baby boy just born this past week! We also chose them because Mama just had a very tragic loss. Her brother was killed suddenly. Since my Grandmother passed this year, I know how hard the holidays can be. We figured this would give the little ones something to look forward to everyday, and a little mystery for Mama and Daddy to try to figure out.
All of the gifts we purchased were dollar store, or homemade. We did not have a ton to spend. This has been soooo much fun for my older children. I HIGHLY recommend doing this if you have older kids. They have been involved from day one. Every part has been as a whole family. We sat down and figured out what we could do for each day. Ansley and I went on a scavenger hunt for fabo items to go with our ideas. Fun! Fun! Fun! I can tell you now, this will be a yearly tradition in our home. I would not trade this time I have spent with my kids for the world. This also is teaching them the spirit of giving, and looking at our fellow man and seeing who might be in need...physical and emotional.
So the 1st day of Christmas is a Partridge in a Pear Tree. Not for us prankseters. I went to the dollar store and purchased a tiny fiber optic tree ($2). We dressed it out in ribbon and candy canes that we had. Ansley drew a cutie partridge for us to stick in the branches...and we would not be complete without pears...baby food, for the newest member of there clan.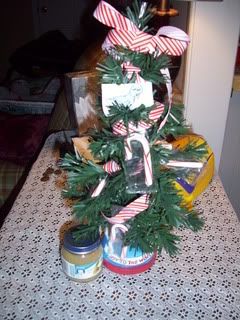 We did include a note-
Dear 5y/o and 3 y/o (not using there names)
On the 1st day of Christmas my pranksters gave to me-
candy canes on a fiber optic tree. With a little partridge and some baby pears for your new little baby bear.
Ansley and Matt did a ding and run around 7ish. They had a blast! We can not WAIT until tomorrow!!! Will keep y'all posted!