Here I was thinking that the new year would be Jon and Kate free. Wrong. These total dumb asses have divorced and canceled their show so why are they still front page news...
KATE GETS HAIR EXTENSIONS....WOOO FUCKING WHOOOOO!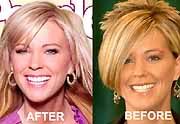 I could really give a shit less if Katie does a Britney and shave that shit off. Why is she on the cover of PEOPLE? She has been on the cover of that magazine more in the last 5 months then Brad Pitt has had sexiest man of the year. Well, not really, but it damn seems like it. I am all for getting on and feeling better for yourself after a divorce, especially when you were married to a douche like Jon, but damn it do you have to grace the fucking cover of every fucking magazine to to this? We all know you got some new puppies, we saw them falling out of your bathing suit last summer. She is a narcissist. Totally.
JONNY IS BEING COCK BLOCKED!!! PPPPPPPPPPPPFFFFFFFFFFFFFFFFFFTTTTTTTTTT!!!!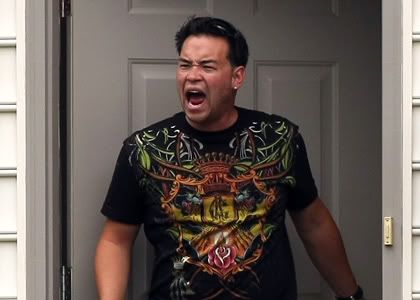 So this prick head was getting $10 GRAND for public appearances. WTF! I would not give is asshole $10 fucking bucks to shine my shoes. Who the hell wants to party with someone who's rise to fame included wacking off in a cup? Then acting like a total pansy on TV. I use to like Jon, but he is way caught up now!
Ha! But the judge totally cock blocked his ass. TLC is suing him for breach of contract since he had the kiddies removed from the show and thrown off this land. I get TLC's point. They had $ invested. I am not saying I am for or against the kids being on TV (I am against, against, against when you have dumb fucks for parents) but dude was totally just doing it to be a dick. WELLLLL, Karma baby got his ass by the balls. TLC put in an injunction for him to stop doing public appearances for moola because they had built up the show as a "whole some family show" and that just will not fly when Johnny is doing body shots off of half dressed co eds. Sigh. I wonder how he will make his child support payments...oh wait he has a date with Octo Mom! Dude, can I be your manager?
I think these people deserve each other. They better be glad I am not the judge. I would order the cameras off, accounts frozen, and they have to remain married and living together for one year until I would grant the divorce. She needs to be knocked off her virtual pedestal and fire who ever is in charge of the helium that is inflating her head. He needs to put on a chastity belt and get back to being the good father he once was.