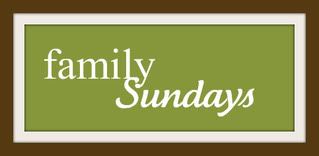 Yea! Family Sunday is Back! This is the first Family Sunday of the New Year. The big kids were gone for 9 days after Christmas so I decided not to post about Dean and I sitting around in sweats looking at each other.
Not that this weekend was much different. The kids were gone...again. This is the thing I hate the worst about Christmas holidays. They are gone, then some how the following weekend they go back? It always works like that. Then we have Matt's birthday next weekend so I will be super busy. Good thing is that Friday and Monday next week are out days at school, so we will have an extended weekend. Thank God because I am going to need it for everything we have planned! Yikes!
This weekend was very low key. We did not even leave the house. It was too damn cold. I know that all my friends in the north are thinking I am a whiney ass, and I am. I have always said that I would love to live up north, but not so much right now. These 20's are getting to me. I would become a hermit if I lived in the north. I have not left this house since Tuesday when we took LC to the Doc for a well baby check. I have no plans of leaving again, but I have to pick up the kids at school tomorrow, so I guess I will.
The kids came home and immediately we have to have our Wii Championship dealy. Matt was the reigning champ (acquired on Friday). Dean and Ansley battled out and Dean became #1 contender for the belt. We have a long complex list of rules. Rules that my son often begs the commissioner (Me) to bend in his favor. When I tell you this family is cut throat, you really have no idea. We can make ANYTHING a competition. So Dean beat Matt. Got the belt back. Time for contender matches again. Well I decided I wanted to play and not just comish. My Ans LAUGHED and said that "Mama has never had the belt". Like it was insane that I would even think that I could beat any of them. Haha! I promptly beat her little ass and then whipped Matts ass so who is the #1 contender for the belt?? That would be ME!
We did not have time to finish the final match (Dean and I for the belt) because it was time for me to cook. Tomorrow...it is on! I want to win just to shut their little asses up. See, that is how I work. I don't want something really bad until someone tells me I CAN'T do it. Then it is all about me showing I can. I will let y'all know tomorrow how that all works out for me...fingers X.
We had pancakes for supper. LC ate them up. We have the ridges of one tooth that popped through on Saturday night. That girl is so ready to eat!
The kids were super wild tonight (that is how it rolls when they come home) and LC joined in on the fun. They were all acting like crazy asses. Matt made the mistake of rolling his eyes at me...that is like a HUGE rule in my house. No one rolls there eyes at me. No one. Ask Dean. He did it one time. It was a good thing he was driving or I would have poked his eyes out.
So naturally I have to think of a super pain in the ass punishment. Listen up mommies. The best punishment you can give a kid is one that they think that they will not mind doing. Kinda like facing the door, putting your nose on the door and singing. Matt was in hog heaven. Until Dean changed it up and made him recite time tables. 1-12 baby. He was pissed. I don't think that he will be rolling is eye balls at me again any time soon :)
That is about it for my Sunday. Next week will be much more exciting!!!
Now for my award!!!
Ruby @ Growing up Blackxican...
Great blog! Great Mommy! Great ideas!! Love it! Love how much she love her family!!!
gave me the Beautiful Blogger Award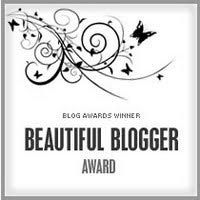 I love this award because it came from a blogger that I also think is a beautiful blogger!
So there are some rulies attached to accepting this award. First 7 things about me...
1. I am left handed.
2. I had my first child at 22. (Well almost).
3. I have never broken a bone. Surprising since I am soooo clumsy.
4. I hate chocolate. Except when Flo is visiting.
5. I totally believe in ghosts.
6. I love, love, love to play poker. I am normally very under estimated, and win.
7. I am not a morning person. Not. at. all. Do not speak to me until I speak to you grumpy.
Now the best/hardest part. I have to award this to 7 beautiful bloggers. I love and hate this at the same time. I have so many blogs that I love to death. If I leave you off, trust me, it is not because I wanted to...can I change the 7 to 107???
1. Naomi at
Organic Motherhood with Cool Whip
2. Dawn at
Nicest Meany
3. Karrah at
Eggs Don't Bounce
4. Niki at
Miss Understood
5. Christie at
Baby Tea Leaves
6. Annissa Rae at
Moon N Star Mommy
7. Katrina at
Kat's Confessions
UGH! That took me soooo long! Seriously! lol
Now enough of all that nice stuff...I will be back to snark away tomorrow!!! Muhhahhhaaa