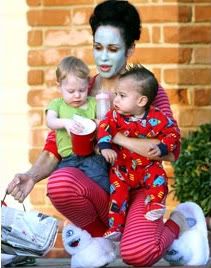 Have y'all seen this crap? She is SCARY! Can you imagine what here babies are thinking?
"Holy shit! What has this wacked out bitch done to her face now?!"
I am all for a good beauty regimen, but come the fuck on. Did she not think that the paparazzi would not catch her in all this glory? Hell yeah! I guess she was not getting enough press time so she decided that she needed to spice things up and come out in Grinch face.
Nice! What and idiot. If I had 14 kids I prolly would not even have time to wipe my butt more or less smear that crap on my face. I love her Abominable slippers. I wonder if she swiped them off of her older kids?
I wish that she would get in the bubble with Jon and Kate and float away.